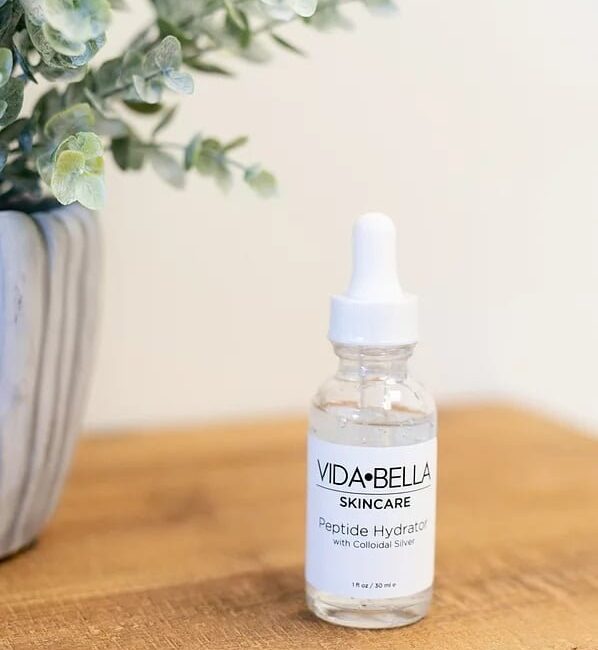 Peptide Hydrator with Colloidal Silver
This clarifying hydrator will moisturize, firm, and illuminate complexions. Its Triple Bio Brightening Peptide Complex fights the signs of aging with Copper Tripeptide-1 and Acetyl Hexapeptide-8.
Enhanced with Visible Boosters (proprietary blend of Colloidal Silver and Jojoba Esters). Colloidal Silver is a holistic household first aid kit staple known for its exceptional antibacterial, antimicrobial & anti-inflammatory benefits. This medicinal activity is highly effective in the treatment of reducing sebaceous skin impurities and scars while maintaining healthy hydration and preventing transepidermal water loss.
Acetyl Hexapeptide-8 (Argireline) is a peptide compound that reduces the appearance of wrinkles brought on by repeated facial expressions. It has been found to temporarily get rid of wrinkles by preventing muscle contractions, therefore the perfect Natural Botox Alternative.
The anti-aging benefits of Copper Peptides are due to their ability to promote the production of glycosaminoglycans like Hylauronic Acid. A German research group found that CoQ10 suppresses collagenase, an enzyme that causes damage to the connective tissue. It protects the skin from early aging, wrinkle formation, and loss of cell activity.
Studies have shown equivalent results as one injection of collagen (-15% wrinkle depth reduction).
Good for acne skin.